Police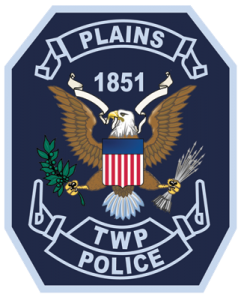 Our Department consists of 20 sworn officers who serve the community under the direction of the Chief of Police. We operate under a community policing and problem solving philosophy, which keeps us focused on our community partnership responsibilities.
The Department, in cooperation with the citizens we serve, strive to meet identified objectives toward the goal of enhanced public safety administered in an efficient and cost effective manner.
The Police Department enforces all of the laws of the Commonwealth using a patrol force under the direction of two lieutenants and four sergeants and utilizing Electronic Speed devices for speed enforcement and also making use of numerous methods for enforcement of the various traffic laws. The Police Department participates in regular Sobriety Checkpoints with various State programs and also regularly arrests drunk drivers. Officers participate in awareness and enforcement programs including Buckle Up PA and Smooth Operator.
Our Mission
The Plains Township Police Department, working in partnership with the entire community, is committed to providing the highest quality police service to all of our citizens. Community Safety is our primary goal and we will seek a solution to any problem that creates fear or threatens the quality of life in our communities.
When a community works in cooperation with the police department and local government, it has a positive impact on reducing neighborhood crime, eliminates the fear of impending acts of crime, and promotes a feeling of assurance that our community is safe for all of our families.
Preventing crime is as important as arresting criminals; Preventing disorder is as important as preventing crime; and reducing both crime and disorder require that police work cooperatively in neighborhoods to:
1. Identify their concerns
2. Solicit their help
3. Solve their problems
COMMUNICATION + COOPERATION = IMPROVEMENT
Civil Service Examination
Plains Township will be conducting a Civil Service Examination to prepare a Civil Service List of Eligible Applicants. These applicants will be considered by the Plains Township Board of Commissioners for the positions of Police Officer and Firefighter.
Applications are available at the Plains Township Municipal Building located at 126 North Main Street, Plains. The business office is open from 8:00 A.M. to 4:00 P.M. every weekday with the exception of Wednesday when it is open from 8:00A.M to 6:30 P.M. Please note that the office is closed on holidays. In order to be eligible for the examination, completed applications must be received by the Civil Service Commission no later than 4:00 P.M. on March 31, 2023. All sections of the applications must be completed and notarized wherever a signature is required in order to be accepted by the Civil Service Commission and for the applicant to be permitted to participate in the examination process. The Business Office is the exclusive point of submission. The Civil Service Commission assumes no responsibility for late  submissions. Additional information can be found here: Civil Service Application
Video Sharing Program
The Plains Township Police Department would like to develop a partnership with the community residents and businesses in an effort to solve crime and apprehend criminals. This program is known as a video sharing partnership and works on a voluntarily basis with property owners who have private video security systems in place that record publicly accessible areas. Areas include streets, sidewalks, parking lots, etc. Police respond to burglaries and other crimes and will be able to see locations with cameras so they can quickly contact the registered video partner that may have recoded footage that could aid in the investigation.
           If your business or home has surveillance cameras, we want to partner with you to fight crime at your location or neighborhood. We are looking for business surveillance camera locations, both inside and outside the establishment. In regards to residential surveillance videos, we are interested in outdoor surveillance camera locations only. Please look at the program description link below for information and registration. If you are interested in partnering with the Plains Township Police Department, click the link and complete the registration form and email to lent@plainstownship.org or print and mail to:
Plains Township Municipal Building
126 N. Main Street
Plains PA 18705
For all Police report requests please use this form: Police Report Request Form
Report requests can be emailed to wpoulos@plainstownship.org
Contact
Plains Township Police Department
126 North Main Street
Plains, PA 18705
Non-Emergency Phone:
(570) 829-3432
Police Fax:
(570) 829-2379
Record and Reports
(570) 829-3439
District Justice, Joseph Spagnuolo
(570) 825-8984