Information
DUE TO COVID-19 PROCEDURES EFFECTIVE IMMEDIATELY – Access to our Municipal Buildings is Closed to the Public. For Emergencies Please call 911. For non emergencies for the Police Dept. please call (570) 829-3432. For non emergencies for the Fire Dept please call (570) 829-3433. For Garbage Bags please use the buzzer in our foyer for service and we will accommodate you. Thank you for your cooperation
OUR TAX  OFFICE  will be doing business through our drop box in our foyer or by mail only until further notice. Receipts will be returned by mail as soon as possible. Thank you for your cooperation.
THE ZONING OFFICE will be doing business through the drop box in our foyer until further notice. Thank you for you cooperation.
 Below is a thank you note from the Nah Family from the fire on Skidmore St.

Clutter Pick-up/Bulk Item Pick-up –
Pick up is scheduled for the last Thursday of each month (subject to change). Limited pick up of 50 PRE-REGISTERED residents per month.
PROCEDURE: All Items must be registered and a sticker purchased for each item.  Maximum of 4 stickers can be purchased at a cost of $5.00 each for the month.  Registration can be done at the Municipal Office.
ITEMS ALLOWED: Furniture, mattresses and/or box springs, rugs, lawn furniture, lamps, framed mirrors, vacuums, chairs, couches, dressers, washers, dryers, stoves, dishwashers, refrigerators, freezers, exercise equipment, sinks or tubs, gas grills, water heaters, air conditioners, humidifiers and dehumidifiers, lighting fixtures, fans, toaster ovens, microwaves, lawn mowers (fuel removed), weed wackers.  Small items should be placed in a box or a 30 gallon container.
ITEMS NOT ALLOWED: Chemicals, lumber, building materials, remodeling and construction materials, yard waste, newspapers, cardboard, garbage. Any type of e-waste such as computers, monitors, printers, fax machines, TV's.
Stop by one of our 3 neighborhood sharing libraries and borrow a book to read or donate a book that you have already read. They are located at the Ambulance building on Maffett Street, on the corner of  Miner and Oak Street and in front of St. Peter and Paul's School on Hudson Road.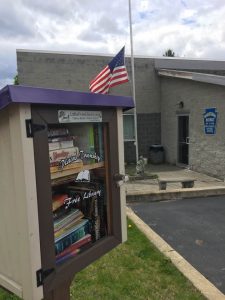 Township Trash –  bags are sold in boxes of 50 bags for $40.00 or 1 roll of 25 bags for $20.00 @ the Municipal building 126 North Main Street during regular business hours. Accepted payments are cash, check or money order.