News
DUE TO COVID-19 PROCEDURES EFFECTIVE IMMEDIATELY – Access to our Municipal Buildings is Closed to the Public. For Emergencies Please call 911. For non emergencies for the Police Dept please call (570) 829-3432. For non emergencies for the Fire Dept please call (570) 829-3433. For Garbage Bags please use the buzzer in our foyer for service and we will accommodate you. Thank you for your cooperation
OUR TAX  OFFICE  will be doing business through our drop box in our foyer or by mail only until further notice. Receipts will be returned by mail as soon as possible. Thank you for your cooperation.
THE ZONING OFFICE will be doing business through the drop box in our foyer until further notice. Thank you for you cooperation.
The 2020 yard waste Pick Up and Drop Off is suspended until further notice. The facility that we take it to is temporarily closed. Thank you for your cooperation. 
The the Plains Township Police Department now has an accident report portal. If you were in an accident  you can now use http://www.crashdocs.org/  to obtain a secure copy of your crash report.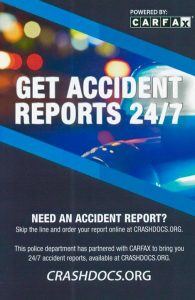 Firefighter Civil Service Examination
Plains Township will be conducting a Civil Service Examination to prepare a Civil Service List of Eligible Applicants, who can be considered by the Plains Township Board of Commissioners for the position of Firefighter.
Applications are available at the Business Office at the Plains Township Municipal Building, 126 North Main Street, Plains, from 8:00 A.M. to 4:00 P.M. Monday, Tuesday, Thursday and Friday and Wednesday from 8:00 A.M. to 6:30 P.M., excluding holidays. FireFighter Civil Service Exam Information
Street Sweeping Notice:
Effective April 2020 Wyoming Valley Sanitary Authority will resume street sweeping service. Sign notification will be installed 72 hours prior to sweeping (sample shown below). Sign posting and service dates will vary due to scheduling allowances and equipment availability.